Definition:
Felt washer is a circle disk shaped, wool felt with a center hole in the middle, manufactured sometimes in square shape also. Felt washer is small flat wool felt ring fixed between two joining surfaces to spread and distribute the pressure and load of the upper surface to uniformly to lower surface, to ensure tightness in joints or assemblies, prevent any leakage, and relieve from any friction between the upper and lower surface. It acts as a spacer or seal. In general, the size of the felt washer is represented by its outer diameter, inner diameter, and its thickness as height.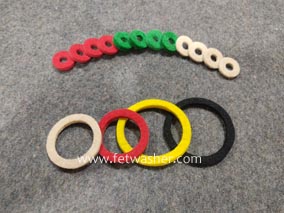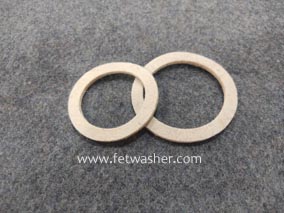 Fiber Composition :
Wool is used to manufacture felt washers, different grades of wool felt are blended together in the process. Felt washer material is manufactured from wide variety of synthetic fibers like Polyester, Viscose, Polypropylene (PP) and Nylon. Compared to other available fibers, Merino wool is preferred and ideal for manufacturing felt washers because wool is a natural and pure fiber and is environment friendly. Another alternative is Cotton which can be blended along with wool.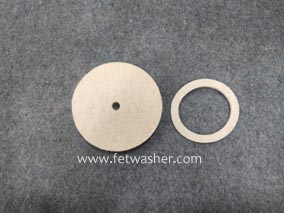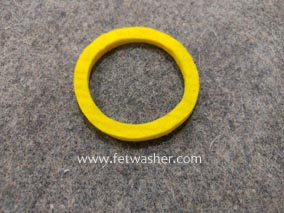 Types:
We are Felt Washer Manufacturer in three types, Pressed felt washer which is made from wet compressing and felting of wool fibers. First opened then carded wool fibers are transformed into layers and cross lapped in each layer forming into a single thick layer as per thickness and density required. Woven felt washer where woolen yarn and woolen threads are weaved into woven fabric like material and then felted making into hard pad material which can be cut as per size. Nonwoven felt washer is made from needle punched felt fabric, polyester and other synthetic fibers are used in Nonwoven felt washer.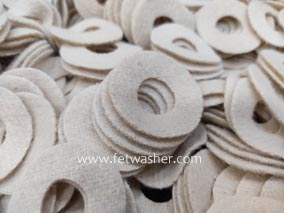 Grades :
We are Felt Washer Suppliers in technical and industrial grade qualities. Technical grade felt is used in manufacture of technical felt washer, which is specially made for application where precision quality is required, sometimes it is called precision felt washer. A precision felt washer is an accurate felt washer. For all general industrial applications industrial felt washer is recommended. Industrial Felt Washers are compact washer, durable, maintains its resilience capability under pressure and seals out any leaking air and dust. In engineering units these are called as engineering felt washer or mechanical felt washer. It is called mechanical felt washer because it is suitable for all the mechanical applications which are required in machinery.

Appearance and Colours:
The general standard colour is the natural off white, white felt washer, grey felt washer and black felt washer. Common colours which can be dyed are Blue, Yellow, Green, Red, Brown and to any colour of customers choice.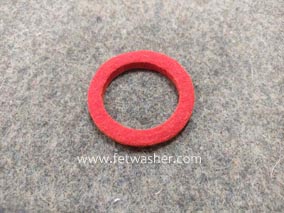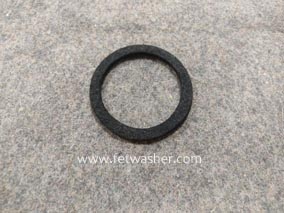 Density and Hardness:
Felt washer is available in wide range of hardness or density from 0.18 to 0.45 g/cm3 and more. Soft felt washer provides very good cushioning effect and is very flexible and highly absorbent material. In soft category, density varies from 0.20 grams/cm3 to 0.26 grams/cm3. Medium hard are flexible felt washer, having density from 0.30 grams/cm3 to 0.36 grams/cm3. Hard felt washer is quite hard material, it is compact and durable, having density from 0.36 to 0.45 g/cm3.

Thick:
Felt washer is produced in all thickness from thin felt washer to Thick felt washer ranging from 1 mm to 30 mm and higher. Sometimes washer thickness is referred as width or height. Standard width measurement of felt washer in Inch Unit are 1/8" Inch, 1/4" Inch, 3/8" Inch, 1/2" Inch, 3/4" Inch and 1 Inch. Regular thicknesses manufactured in millimeter are 1 mm, 2 mm, 3 mm, 4 mm, 5 mm, 6 mm, 8 mm, 10 mm, 12 mm, 15 mm, 16 mm, 20 mm, 25mm and higher also. We can supply assorted felt washers in different thickness. Felt washer material are felt sheet from where we can cut wool pad washers in small size to produce small felt washers and to manufacture big size shape for big felt washer 1/4" thick to 3/8 Inch Thick.

Shapes and sizes:
Felt washer is produced as per requirement of customer, it is a customized product as per drawing, manufactured against order only. Basically three parameters define the size of a felt washer, its Outer Diameter, Inner Diameter and thickness or height. In large size joining is also done to make the washer economical. Jointing felt washer is suitable only in Dry applications as its join may open during use.

Plain flat felt washer: This is the general, regular and the most common shape. Flat felt washer is a flat annulus ring type shape, circular washers with a hole in the center as inner diameter or bore, it can uniformly spread the pressure load and evenly distribute to surface and prevent any damages which may occur to the surface where it is fixed. It act as barrier between the surfaces. Made from tough, industrial quality wool fibers that are felted to form a durable cushioning material. These flat felt washer are used as felt spacers.

Round Circular felt washer used for all application. These are circle in shape like a ring. Square felt washer is a washer where its height and its wall width is same.

Shoulder felt washers have a shoulder type structure. They are used to insulate wire or any other part from assembly. It is like a felt bush. It has two outside diameters to insulate fasteners or shafts within equipment or machine.

Felt flange washer: A flange is a joining method of connecting two or more pipes, pumps valves, and other equipment to form a piping system, flange are joined with the help of felt flange washer which is bolted together to provide a seal. Felt C Washer are round felt washer with design to slide in and out of position on a shaft. A conical shape transfers axial load to fasteners during vibration or shock. It can be cut tapered and shaped to crescent and curved.
External tooth lock shape is a die cut in shape wool felt washer with external tooth type structure around its outer circumference, and internal tooth type structure around its inner circumference is called Internal tooth lock washer.
Spur gears are plain type of cylindrical gear shape felt washer, with straight teeth and oriented parallel to the shafts. It is also called straight cut felt washer. In helical gear shape cylindrical slanted tooth structure type runs over to the edge. Just like spur gears felt washer, they are bit slanted have the larger contact area.
Felt washers are generally Dice cut under pressure and punched into washers. Other shapes are square, circle and round, disc washers, Cup Washers, Conical Washers, crescent and wave. We manufacture felt washers with minimum tolerances and in all shape.

Guidelines, International Standard:
Wool felt manufacturing process is mandated by International standards like SAE F-1 to F-26 specifications, ASTM D2475-01 that prescribes strict guidelines and high quality control standards in all parameters like wool content, thickness tolerances, density, and other physical and mechanical nad chemical properties. We manufacture a wide selection of felt washers according to DIN 61200. Felt Washer materials are pressed wool felt. Washer Standards - ASME B18.22M.

Features, Advantages and Comparison with other products:
Self adhesive felt washers with one side adhesive coating and double side adhesive felt washers are also manufactured. We have the capability to convert felt roll to Kiss cut washers. It is simple in use, easy to pull off like a sticker felt washer type. All industrial felt washers can be delivered with adhesive on either one or both sides.

They are outstanding in all prospects and performance and are known for their impressive functionality and durability. Wool felt offers many unique features and benefits. It does not fray or unravel, and maintains its other physical properties as it wears. It is highly absorbent, offers good chemical resistance, and will generally maintain its original form, even after long periods of stress. Used for mechanical purposes, these are durable and known for their sturdiness. Natural and environment friendly material.

Felt washers are made from wool, a quality industrial fiber which is felted to form into a flexible durable cushioning pad type material. These washers can be produced in felts with specific qualities such as flame retarding, water repellent and antistatic also. The felt can be 100% wool, semi synthetic fiber and silicone treated.

When used between spacers, felt washers provide advantages such as load distribution, insulation, and light sealing. They also serve to protect installation surfaces by functioning as a soft, flexible barrier.

How and when to use washers effectively :
Threaded fasteners do a more reliable job when accompanied by washers. They, protect the surface from any damage while installing, distributing the pressure load and prevent the fastener from false moving or any corroding. Skipping the washers can significantly reduce the lifespan. Ultimately, that leads to disaster for the product itself. With full conversion capabilities, from material slitting, adhesive laminating, pressure die cutting. We can offer a variety to customers for their specific needs in a wide range of shapes, sizes, thicknesses and densities. Washers are usually made from metal, plastic, elastomer and rubber. High-quality felt washers are required in bolted joints to prevent brinelling after the torque is applied. Felt Washer are used to counteract noise and reducing skidding wear on rotating elements.

It features excellent resilient property, provides the cushioning effect which is required in many applications. Sturdy construction, Reliable, Long lasting services, Used for many commercial and non commercial areas, these washers are available in diversified range. Well known for maximum durability and highly sturdy constructions.

Disadvantages in other washers
Sometimes Rubber Washers may shift or move its original position during the tightening process. Rubber becomes hard and brittle over time and either melts down and become powder. Plastic washer cracks when pressure is applied. Steel or other metal scratches the surface and lacks the cushioning.

Advantages:
There are many advantages on using our felt washer. It creates perfect separation gap. It distributes load evenly and locks fastener. Made from high quality wool which is more durable and Resistant to wear and tear, having good Corrosion resistant it also has excellent thermal insulation and good acoustic properties and sound insulation. It has sufficient tensile strength and reduce vibration and dampening. Flame retardant treatment can also be done on it. It has Capillary wicking properties and it is also environmentally friendly – renewable resource.

Function and properties

Load Distribution: The primary purpose of most washers is to evenly distribute the load of the threaded fastener with which they are used. Threaded fasteners stress the material in which they are driven. Washers reduce the risk of such damage by evenly distributing the fastener's load across the surface of the material.

Spacing: Washers can also be used as spacers.

Vibration Absorption: Our products are designed to absorb vibrations and harshness. Known as vibration damping or vibration isolating washers. Made of a softer wool and softer materials are more effective at absorbing vibrations than hard materials. For example, if a threaded fastener connects two objects, and on one side if there is vibration, then with our vibration damping felt washers the other side can be protected from any damage.

Resistance to noise, Acoustic : They provide excellent resistance to noise, Acoustic for a range of applications. Finger Spring Washers are used to counteract noise, excess wear, vibrations and reducing skidding wear on rotating elements.

Heat, Thermal insulation: It insulates the surface keeping the heat away from one side to other. Bolted joints require hard felt washers to prevent the loss due to brinelling when torque is applied. They are very important for preventing corrosion, by insulating metal / steel screws from surfaces. Coatings can be used in attempt to reduce wear and friction either by hardening their surface, or providing a solid lubricant (i.e. a self-lubricating surface).

Sealing Washer: They also provide an excellent seal and protection against dirt and dust in air under compression in a wide range of applications as Dust Cap Washer. It protect installation surfaces by functioning as a soft, flexible barrier. Felt washer prevent the ingress of oil, water or any liquid. They are often used as waterproof seal in water pipes. Like vibration damping washers, liquid-sealing washers are made of a soft material that's able to press completely against the surface of the object. Our felt washer is durable and distribute the load uniformly it has high liquid absorption capacity. It is features immense absorbing property and helps to keep the surrounding area free from oil.

They may also be used in rotating applications, in a bearing. A thrust washer is used when a rolling element bearing is not needed either from a cost-performance perspective or due to space restraints. The flexibility of a crescent washer with the distributed load points. The benefit of spring lock washers lies in the trapezoidal shape of the washer, this prevents loosening.

Oil absorbing : we are compressed felt washer producer with with oil absorbing and oil retaining with oil transfer capabilities. Our Oil felt washer is used for lubricating and wicking. Bush Washers has excellent oil and grease retention .

Uses & Application:
◆ Breville felt washer
◆ Cymbal felt washers
◆ Strap button felt washers
◆ Piano Keyboard Felt Washer
◆ Trumpet valve stem felt washers
◆ Piston Valve Felt Washer
◆ Agricultural tractor spare parts felt washer
◆ Axle lubricator felt washer
◆ Battery terminal felt washers
◆ Greaser Felt Washers
◆ Felt drag washer
◆ Oil felt washer
◆ Machine felt washer



Prices:
The price depends upon the size, thickness, quantity and hardness. High quantity cuts the cost of of production. Higher the Quantity more competitive the rates.

We have emerged as a leading supplier of premium quality Felt Washers. Known for its excellent quality and durability, they are available in different sizes as per the choice of customers. Our felt washers are manufactured from an industrial-grade felt, which is absorbent and helps to keep the surrounding area free of oil. Washers can be produced to the tolerances and shape that you require.

We are the preferred choice among Felt Washer Manufacturers, you must be carefully considering your options when you have plenty of choices online. We are reliable felt washer suppliers, with our huge inventory we can quickly ready the Orders on time with our production capabilities. Our fiber felt washers has material integrity and manufacturing quality is of the utmost importance. They are made by experienced professionals using top-notch material in compliance with the set guidelines. Our quality system ensures that material is free from any defects, meeting customers requirements. Please don't hesitate to contact us. We have over 30 years of experience and knowledgeable staff, and ensure that any queries get prompt response.